CYMBALS - The Age Of Fracture (Tough Love)
Literary influences abound, CYMBALS look to inspire as you dance the night away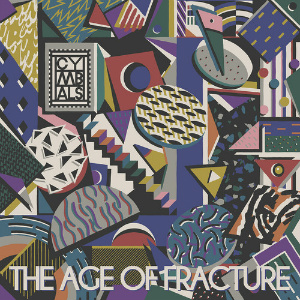 "It's about the fracture of ideas. And in the brain, running between action and desire. About dancing and wanting and the heart. About the city, and working everyday. About manipulation and complicity. About love, dropping into this mess like a dead weight, splitting through the floors. It's fragmented. There is no concept."
Now, generally, the inclusion of a whole section of an artist's press release would be considered a serious no-go. However, this has a resonance, probably with most, which is too much to ignore - and why rephrase such beauty? Rarely has a new record come packaged with such a complete spherical explanation as to what was running through their minds.
CYMBALS
, made up of
Jack
,
Dan
,
Luke
and
Neil
, show an extraordinary amount of thought behind this, their second LP, taking inspiration from
Daniel T. Rodgers
' book of the same name. Its themes are found within each track title, and how it unfurls through synths, skins, strings and vocals.
So how does this neat little bundle sound? That is what it's all really about, isn't it? Well…like a fractious, fictitious, ambling, stumbling, loud, proud, frenzy of a thing! Ambitious to their core, many tunes play long, such as single 'Like An Animal' roving for nine minutes. Its core is the epidemic of tentative/ambient/minimalist disco (take your pick), achieving that revelatory shimmer as Jack's vocals drawl, "Oh, handle me carefully. / Oh, handle me like an animal, nobody's looking no one cares". His release is a challenge.
By far the most laid back of the mix, with the exception of outro-instrumental 'Call Me', tracks like 'Empty Space' are more than dance floor filler-friendly. A slick beat, synth riffs and sounds of a squeezed accordion on speed combines to make this potentially the most addictive on the record. The euphoria of the castanet clicks and backbone base of 'You Are' folds into the lyrics of self doubt, followed by a free-flowing guitar lead that breaks down into squeaks for the track's duration.
First single 'The Natural World' is unashamedly electro-clash. Expectant visions of
Bowie
easing from the speakers, its Labyrinthine opening is mesmeric. Lyrics "I don't know enough about you, to be kind to you" hit the high notes, as the babbling staccato baseline is shot through with synth streaks. The disparate space between the title and the overly produced shine couple with these lyrics to hint at the fragmentation by which they are so inspired.
Opener 'Winter '98' emulates the formulaic beat of a club anthem, Jack lending his native French to the track. You can imagine yourself dancing with him as he whispers in your ear. Rising throughout, the resultant effect is a full release, tumbling through you, the rhythmic throes becoming more and more impossible to dodge. He also lends his dulcet tongue to 'The End', where you are then thrown back into the party, but with a more lamentable message. Slow and sombre, a violin intro gives way to the buoyant beat broken only by Jack, before Brit vocals dominate the order: "It's the end of the night. You've been dancing too much. They've got to turn on the lights, 'cause you're older now and you want to forget. You've been dancing too much, now this place is dead." With a host of artists who have covered this stalling event, this one seems to be a little more existential. A crisis of what to do now that you think the party has moved on. It's an interesting thought, though slightly depressing. No matter! The beat and pace have picked up now and it has that
Joy Division
abandon. Revelling in the death of something.
'The 5%' followed by 'The Fracture of Age' make for a neat little duo, utilising hang drums and starry synth effects to create a breakdown in meaning. Percentages are reeled off against an elongated, indulgent intro, the outro formulated by the latter track. Swarms of drumrolls and over arching strings batter against the lyrics "time can be erased, you're stupid if you try to stay in place."
Formulating an album against the notion that "there is no concept" seems a little indulgent at first glimpse, though it is fitting for the breakdown in gaps between genre, age, culture and ideas. It's almost humorous when you piece it together; at times tongue in cheek, but always decisive and eloquently arranged. The use of polished arrangements and fractious beats expel this incongruous nature. As a record, it says something deep, but on the surface it's just a really, really good listen. It depends how deep you want to go apparently, but it is beautiful from all angles.