Crystal Fighters - Star Of Love (Zirkulo)
Spaniards finally unleash their explosion of genres and sounds with a pulsating electronic backbone with their debut record.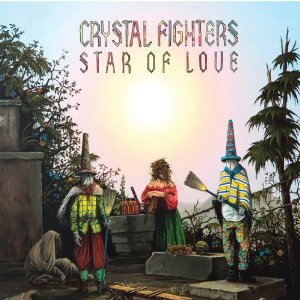 For those who are unfamiliar with Crystal Fighters (CF), it seems like a lifetime ago that they released 'Xtatic Truth' as a single on Kitsuné, but it's still instinctively catchy, and its serves well as their most widely acclaimed song to date. Over a year and a half later, the Spanish band have finally stopped taunting fans and released their debut full length
Star of Love
.
One might describe it as an intrepid adventure into the depths of Earth's diverse cultures; prolifically exploring the mysteries of Laure's grandfathers hidden and un-finished opera "Crystal Fighters", whilst incorporating 80's Spanish punk and traditional Basque folk songs with Electro driven bass lines.
At times, it feels as if waves are thrashing down on you, none more so than in 'Xatic Truth' and 'I Do This Everyday'. The latter combines an unusual mix of percussive tribal sounds and experimental vocals. Admittedly, on first listen it seems annoying, but one finds themselves crawling back to it soon afterwards. It's one of the heavier and glitchier tracks of the album, and will definitely push and test the boundaries of CF's escalating fan base.
In almost direct contrast, the vocals of 'Plage' bare a charming resemblance to a nursery rhyme, and it's simplicity and popish nature is again another example of their voyage into various genres. The song flows like a riveting story, engaging the listener and drawing them into the depths of the album as it progresses into a dense, MGMT-style psychedelic atmosphere.
Similarly, 'Champion Sound' provides further insight into their softer side, and it feels like a blissed out summer tune. The lyrics take centre fold, complementing the washed out music of the background before it builds up and the bass begins to dominate. These two tracks are a wonderful addition to the album, offering melodic breaks away from the driving songs battling an arsenal of genres within
Star of Love
.
'In The Summer' picks up the pace again, and interestingly the vocals begin low, almost disguised by the music - an excellent touch of production work from CF, (who self-produced the album), rejecting traditional popular records.
Their iconic take on the famous city, 'I Love London' bleeps and drones, and the glitchy vocals will certainly appeal to a more hip audience. The flailing electronic synth's of 'With You' tease the audience with an insatiable melody, leading into moments of euphoria, whilst the tribal drums drive forward the soft timbre of the female voice.
There's a sense of Europe in the record, and many inclinations of an electronic Spanish dance-punk band, but there's also subtleties of so much more. The whole album is full of ferociously charged particles, flying round and constantly smacking into each other, each particle representing a different genre of music. The result? An explosive fusion of styles with an electronic backbone, inevitably capturing a vast array of fans into Crystal Fighters' very own
Star of Love
.