Crippled Black Phoenix - (Mankind) The Crafty Ape (Mascot)
Fifth record from Prog Rock heavyweights continues their path of ascendency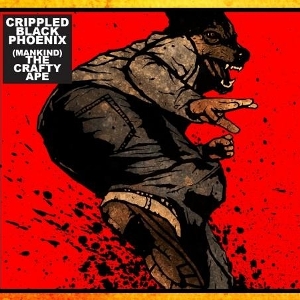 "Use your anger to creatively destroy your oppressors." These are the opening words from
Crippled Black Pheonix
's newest album, a call to arms announced by a vocoder voice that sets the mood of the rest of the record. Led by Justin Greaves, the band is the unification of a hand full of seasoned musicians with a taste for serious minded Rock.
But what's the real deal here? Are CBP using the rising dissident to further their own gain or are they providing musical sustenance to the global protest movement? This is the danger with the term 'political band' and I'm hesitant to use it on CBP. Bands like U2 and The Manic Street Preachers were once awarded it and now, after achieving fame and success, these swaggering tycoons jet around the world, selling their antiestablishment egotism. We've developed automatic scepticism of musicians that attach themselves to social struggle; perhaps finally realising that almost anything can be exploited for profit and that the Rock Star lifestyle, as much as any other modern hypocrisy, is very much apart of the problem.
But if CBP are not a 'political band' then they are at the very least politically inclined and this is a far more free and effective position to be in. Despite it all: job cuts, privatisation and rioting, there are not many artists around who can turn anxiety into the language of resistance.
Whatever their motivations, CBP make some excellent music. Their fifth release,
(Mankind) The Crafty Ape
is a rich and diverse record that matches the disgruntled lyrics perfectly. While their previous records were more atmospherically based, this one takes a step past despair and further into rebellion. Cross breeding Pink Floyd's inventive structure with Radiohead's gloominess and dissatisfaction, their music is a well-devised and heavyweight Prog Rock with the kind of inherent quality that can only derive from solid musicianship and intensive gigging.
Enhanced by the raw clarity of the production, the group explore both a range of tones and their own ability achieving the execution. 'The Heart of Every Country' feels very Floyd indeed (circa Animals) with its grand composition of sailing guitar solos and thick piano chords. With stomping tom percussion and burning guitar lines, 'Laying Traps' is a driving piece of work and the video sees the band don gas masks and anarchic attire for a performance interspersed with scenes of protest. 'Release The Clowns', while swaggering like The Black Rebel Motorcycle Club, gives a final warning before the close: "Gather your belongings 'cause the revolution's coming".
Though sounding completely different,
(Mankind) The Crafty Ape
follows PJ Harvey's
Let England Shake
for an appraisal of this country's decent into mismanagement and irrelevance. Some may be put off by the band's consciously dark focus but it must be taken it for what it is. While more and more bands appear to be drifting into escapism and nostalgia, there are still some on the other side, drawing their inspiration from realism and suggesting that maybe, just maybe, things aren't going too well and we might need to do something about it. Otherwise, as CBP say, "Just keep on complaining, and someone will hear you".
Crippled Black Phoenix Links