Courtney Barnett: Sometimes I Sit and Think, And Sometimes I Just Sit (Milk! Records)
Hotly anticipated debut from the promising Australian songwriter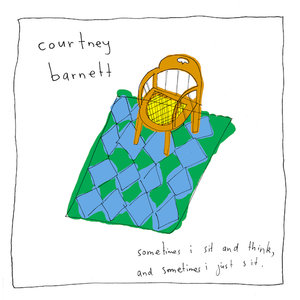 "
Don't put me on a pedestal/I'll only disappoint you
" rants
Courtney Barnett
over the fuzzed bass and cymbals of leadoff single 'Pedestrian at Best'. While she cites the lyric within a song about a relationship it is plausible that the warning is also aimed at the music press who, over the past few months, have brewed up quite the hot fuss over this South Australian songwriter. Before the release of this, her first album proper, she has inspired feature articles in a litany of highly hip and sometimes credible newspapers, magazines and blogs while securing bookings at the planet's most prestigious rock festivals and radio sessions.
Previously Barnett has self-released two EPs of insular/hyper-personal jaunts through her journal inscriptions. A collage approach that created songs with a dreamlike quality; narrative threads disappearing and reappearing amongst introspective questioning and seemingly offhand observations. While highly enjoyable, there were some reservations over how deep and long such a particularly personal river could run.
Pleasingly,
Sometimes I Sit and Think…
tackles such concerns head on from minute one. 'Elevator Operator' is a catchy stomp, framed around a young male protagonist abandoning his morning commute so he can stand on the roof of a city building "
not suicidal just idling insignificantly
". Barnett's charm lies in such imagery coupled with witty false rhymes and unexpected turns of phrase. "
I'm a fake, I'm a phony, I'm awake, I'm alone, I'm homely, I'm a Scorpio!
" from Pedestrian At Best brings a smile, it's the kind of statement juxtaposition that wouldn't be out of place in the post-rock of Shellac.
This is not a willfully obscurant record though. Barnett's rare skill is in presenting the everyday as poetic and meaningful. As a lyricist she takes the mundane and hyper-personal and teases it out through song in a manner so that it's strands touch onto so many aspects of the shared human experience. 'Depreston' is a good example of this; we follow Barnett house-hunting in the Melbourne suburbs and listen in as she reflects upon the life and death of the previous occupant whose story is hinted at within the keepsakes still on display in the house. The melody plays on the same handful of notes for the first minutes of the piece before lifting gently on the words "
it's a deceased estate
". Such a lift is one of the great musical tricks (see the work of Mr. Nick Cave) and it works a treat here. Those higher notes have stuck with me over the last few days like an affecting character in a book or film.
Something nags though; there are such clever, interesting pop songs here ('Dead Fox', 'An Illustration of Loneliness', for example) then there's a quality control issue that stops this being a consistently engaging album; A dull blues and a twee swimming song stick out but they're not alone. However, take the rough with the smooth and you'll find plenty to enjoy here, it may not be a record for the ages but it certainly sounds good right here and now.
Courtney tours the UK through March and April:
Brighton, Concorde 2 (March 27)
Bristol, The Fleece (28)
Leeds, Brudenell Social Club (29)
Sheffield, Leadmill (30)
Newcastle, Newcastle University (31)
Glasgow, Art School (April 2)
Manchester, Gorilla (3)
Nottingham, Bodega (5)
Cambridge, Junction 2 (7)
Norwich, Waterfront (8)
London, Electric Ballroom (9)