Cool Ghouls - A Swirling Fire Burning Through The Rye (Empty Cellar Records)
Direct from psychedelia's wellspring, the San Fran garage rockers release a storming second LP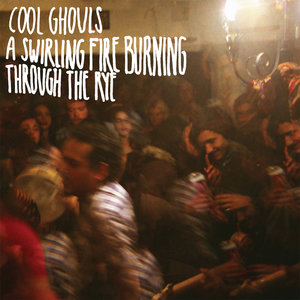 Perhaps the title is an indicator of the
Cool Ghouls
' tongue in cheek intentions, emphasis on the double meaning of "rye". Do they really mean to wear their
Nuggets
-era garage rock worship so boldly on their second hand, denim sleeves?
The deft production values on
A Swirling Fire Burning Through The Rye
are hard elements to ignore on the outset. The San Francisco band's second LP offers a delightfully nuanced sound texture, from the frequent employment of dense vocal harmonies, to the live-to-tape recording by Sonny Smith (of the Sunsets). The result is groovy, garage rock that harkens back to The Troggs and the Monks (just listen to "What A Dream I Had" and "Get A Feelin" for those echoes) and in the most obvious ways, The Kinks. Contemporarily, Cool Ghouls play quite well beside Ty Segall's brand of fuzzed, jerk off indie weirdness and Thee Oh Sees.
The Cool Ghouls invite comparison, but those shouldn't define them exclusively. The album is packed with songs that are quite strong, holding up to the harsh light on their own merits. The longest of the ten tracks, "Insight" is a seven-minute showcase of intricate, swirling guitar jams and blissed out vocals that suddenly breaks off five minutes in, calmly transforming into something entirely different than its original costume. Who cares what they're saying? It doesn't matter. You'll sing along with "Across The River" and the drowsy, Mama Cass revival closer, "Sweet Rain" whether or not you know better. The gem for me is the quasi-mystic, "And It Grows" a track that really sweeps out the cobwebs.
Whether the Cool Ghouls are
riffing
on the sixties sound, or
riffing the sixties sound
to new heights isn't really all that crucial of a point to make, not now. This album displays its influences, but you should forget that irony for a moment. You love those Nuggets compilations, don't you? Anything imbued with those achy twinges of heartbroken summer of love rock so thoroughly is worth basking in.