Common Prayer – There Is A Mountain (Big Potato)
It's gonna take a lot more than quirky sounds and precious English villages for this album to be invited round to our house to play videogames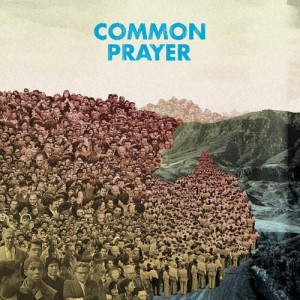 If there was ever a record that really pushed the boat out trying to make you like it, it's this one. There's a great little story of a Brooklynite, deeply dipped in the music scene of his own borough, tugging boatloads of clattering and jingling junk (and half-tuned guitars – oh how quaint!) to a small English village idyll –Steventon, the birthplace of Jane Austen (where she wrote
Pride and Prejudice
– aah what a classic). And there, in a cow barn on Hill Farm sewing together sweet folkish sounds out of rags and scraps with a few local chaps including one of our 'most-revered songwriters', Neil Halstead.
Even the album artwork is great. So cut n' paste, so sepia-toned, like a common man's
Sergeant Pepper's
where everyone knows your name. No wait, that's
Cheers
. Ach, you know what I mean. It's lovely – you could buy one of those vinyl frames from Urban Outfitters and make it into a feature.
But
There Is A Mountain
is such a try-hard. It's like that kid who brings you sweets every morning at school and will always carry your satchel and holds a place in line for you, just in the hope that you'll invite him around to play on your Sega Genesis. Ok fine, Playstation 4, Super Nintendo Wii, or whatever kids these days get their kicks from.
But let's read between the lines for a minute. This cutesy cow barn on Hill Farm is actually the annual site for the Truck Festival each year, which though a lovely festival, is still the stomping ground for 4000 ale-drinking, portaloo-using revellers each year. And our Brooklynite in question is Jason Sebastian Russo (Hopewell, Mercury Rev, The Silent League), who's name manages to make me shudder every time. That's a personal quip though, not be confused with 'proper critic'. And Halstead? Well…I found a great little anecdote on Wikipedia (not that you should believe everything you read in a Wiki entry, kids).
To quote: '(Halstead's) second solo album,
Oh! Mighty Engine
was released by Jack Johnson's Brushfire Records on July 29, 2008. The album was partly recorded in Johnson's solar powered studio in Los Angeles…'
Jack Johnson. Chuckle. Solar powered. Giggle.
I digress. It's not as if the
There Is A Mountain
is bad. ' Of Saints', despite the lyrics 'saints don't come marching in, they stroll on by', is a rolling and rocking tune, that climaxes with the perfect cymbal-bashing, organ-grinding meltdown. 'Marriage Song' is full of sweet marital metaphors and sheet metal and 'Us Vs. Them' is undisputed head-swaying piano blues (gets a little bit James Blunt-y at the end though - be warned). But it's gonna take more than a directionless army of saints to convince me that I should be friends with this album. And there's no way I'm inviting it home to play Duck Hunt with me. That's Call Of Duty, of course. Duck Hunt! Ha. That is like so 1987…