Cloud Catcher - Trails Of Kozmik Dust (Totem Cat)
Cosmic Denver metallurgists deliver excellent, groove enhanced second LP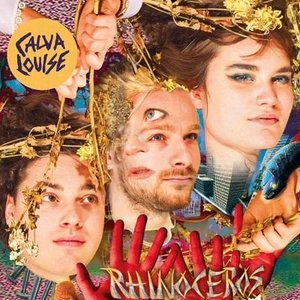 It can be easy these days to forget anymore, that heavy metal is supposed to be fun. Lost amid the tides of high concept doom, and blackened waves of overwhelming noise is the head-banging frolic that gave the genre its life.
Cloud Catcher
's second album
Trails Of Kozmik Dust
opens with Astral Warlord a blustery track, built on Sabbath-riffs that only get more freaky on the follow up, Celestrial Empress which shows that the three piece deals in jams and swagger to spare. The Denver, Colorado three-piece band plays pretty tight, led by guitarist and vocalist Rory Cummings who shoots sprawling solos and does his best Chris Cornell impersonation while at the microphone. On Beyond The Electric Sun the track opens with a heavy distorted bass, an ugly line that keeps the track going while a series of head shaking solos stretch out the seven minutes. Cloud Catcher is deft at bringing it together, psychedelic tones and a stony production value that really softens the edges, making the whole experience of
Kozmik
a heck of a lot groovier than I first expected.
The end of the Cloud Catcher sophomore album leaves me feeling refreshed. Ultimately, I end up somewhat grateful to get through 40 satisfying minutes of guitar mayhem without pondering my own mortality (too much these days). Cloud Catcher puts a lot into their sound but it's obvious that they don't take themselves too seriously, a trend that they started on,
Enlightened Beyond Existence
their debut. On
Kozmik
, the track list breathes freely. There is no doom trodden subject matter and muddy production to allude to impending demise.
Take one look at the cover, two smoke born God monsters engaged in a galactic war? It's enough to almost let your hair down.