Clara Moto – Blue Distance (InFine)
Sophomore record from Austrian electronic virtuoso helps solidify her name as one to definitely watch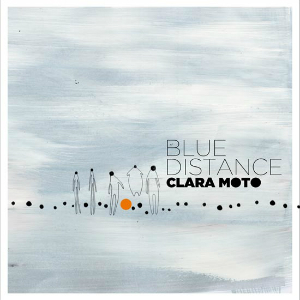 Austria's
Clara Moto
is an up-and-coming electronic artist making waves in all the right ways. The release of her first album,
Polyamour
, in 2010 wowed listeners the world over with its heartfelt subject matter and masterful execution. She comes back to us three years later with
Blue Distance
, a project filled with deep, thought-provoking sound.
This time around, Clara opts for music with a more ambient, and sometimes ominous, tone. With only ten songs, this second album abandons expansive length for a compact but effective exploration into loneliness, travel and inner exploration. For example, the first song, 'How We Live In Each Other', starts slow with pianos and synth samples but picks up when the drums and vocals come in. Clara handles the singing herself but keeps it to a minimum to allow the instruments to tell the story.
From there, she goes into tracks with a variety of components all organised perfectly to create some truly unique music. 'My Double Edged Sword' starts with heavy, off-kilter kick and handclaps but introduces synth, background chanting and wind pipes to take the song in a new direction. The mixing and matching of these elements makes this song stand out from the rest. 'For All Reasons So Sad' juxtaposes high-pitched xylophone and bongo with deep base and background chanting. The album closes on a somber note with 'Lyra' featuring
Mimu
providing half-haunting, half-calming backup vocals.
Perhaps the strongest track Blue Distance has to offer is 'I Saw Your Love', which takes many a turn in both sound and mood. What starts as melancholy, deep synth and drum kick suddenly picks up by adding rapid snare role then a more upbeat synth sample. Towards the end of the song, all of these components (along with vocal bits in the background) come together for a beautiful soundscape. If you only have time to listen to one song on this new album, then make sure it's this one.
Moto proves her ear for music by balancing the sounds of her tracks throughout the album. 'Hedonic Treadmill' contrasts the ambience before it with a fast-paced electronic sound that could be right up there with
The Chemical Brothers
. Similarly, 'In My Dream' is the shortest song on the album and divides the project in half with simple lyrics and instrumentals reminiscent of chip-tone production.
There are very few flaws with this album, though a few songs are much less interesting to listen to than others. 'Things We Almost Did' features Eastern strings, rhythmic drumming and various synth effects, but still comes across as plain up against treasures such as 'I Saw Your Love'. Likewise, 'Holy' serves as the purest example of ambient sound but misses the wide range of sampling seen in previous songs. Of course, keep in mind that these selections aren't bad by any means, but simply fail to impress as much as other stellar tracks that Clara puts up here.
Blue Distance is another offering from someone who has true knowledge and passion for the music that they make. This album will take you places and leave you feeling introspective, emotional and amazed by its truly gripping sound.