Claps - Wreck (Guilt Ridden Pop)
Bringing some synthpop into 2012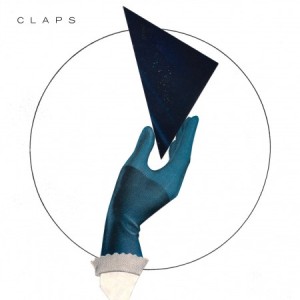 Claps
founding/core members Patrick Donohoe (vocals) and Jed Smentek (synth/sequences) are joined by bass guitarist Sara Abdelaal for their first full length project
Wreck
– allowing for a slightly rockier sound than offered on their previous EP's. If you're a fan of Synthpop/New Wave giants Depeche Mode, OMD, Joy Division, early Duran Duran or indeed any analog synth pop produced in the late '70s and early '80s – then
Wreck
could very well get your juices flowing again.
Tracks 'Gone Grey' and the stand out dance-orientated 'Final Time' are definitely reminiscent of the simple synth tracks produced back in the day – with Donohoe's haunting vocals (carrying more than a passing resemblance to Curt Smith) and Smentek's melodies combining perfectly to create a album packed with sentiments of glowering heartache and longing. But the question has to be asked - has stripped-down, moody synth pop had its day – or could
Wreck
be the album to once again reach the masses and spread the electro sound to a wider audience?
The Minneapolis trio clearly place great emphasis on minimalism –
Wreck
is essentially a very sedate affair, however, the addition of Abdelaal's bass works very well – livening up proceedings and adding a raw, unique edge to the album. For those who still hold affection for great synth bands of days gone by - 'Eyes Remain' and 'In My Dreams' may evoke memories, however,
Wreck
has the added interest of more alternative bands – with Devo immediately springing to mind as an influence on some tracks.
Wreck
is definitely a statement album - it needs multiple plays to really absorb the dark sentiment of the tracks. It's definitely not a cheery experience – angst-ridden lyrics provide for a very grim soundscape – but if you're a fan of stripped back analog synths, lyrics with meaning and striking vocals –
Wreck
will impress.