Christian Kjellvander: Wild Hxmans (Tapete)
Swedish singer songwriter returns with lyrically rich, brilliantly arranged new set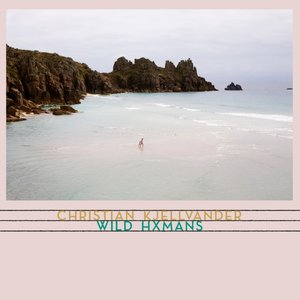 On Strangers In Northeim the opening track on
Christian Kjellvander
's latest album,
Wild Hxmans
the gentle intermingling of instruments forms a sensuous, haunted cocoon around the powerless listener. The track is exceptionally long, ranging out to over eight minutes of gradually assembled percussion and moody atmosphere that eventually turns over into a tempestuous swirl of illusions. As the track bleeds to its finish, Kjellvander crushes a distorted, stormy guitar that captures the lonesome, deserted road aesthetic he had been toying with from the very beginning.
The first thing a listener recognizes in any Christian Kjellvander song is the dynamic range in his vocal performances. Sometimes he is ominous, others kissed by luck, and still on others, like on the ten-minute epic, Curtain Maker a wounded bird with sexy come-hither appeal. There are times when listening to
Wild Hxmans
where he evokes images of Nick Cave, a brooding and confessional shade, putting the 'singer' squarely in front of the 'singer/songwriter' definition.
Kjellvander has been making music for a long time, since 2002 as a solo act, delving further back to 1995 as the front of the alt-country band, Loosegoats, which released their debut EP
Small Lesbian Baseball Players
when he was just nineteen years old. Back in 2016,
A Village: Natural Light
(
review
) was one of my favorite singer songwriter albums of the year, filled with an inviting array of damp-eyed admissions and battered emotions, backed by lush arrangements of fall coloured instrumentation.
Naturally, this made the arrival of his new record a much-anticipated release and while tonally on point with his previous recording,
Wild Hxmans
delves deeper into Kjellvander's pool of experimentation. The seven-track album features recordings that are longer than before, the aforementioned songs over eight and nine minutes, with The Things Is reaching over seven and a half minutes with it's lost in a dream, guitar drift. Not only does Kjellvander give himself more space to explore in the song, he seems to pack each track with more material. On The Thing Is that twilight drift eventually coalesces into a rough, Crazy Horse influenced barroom guitar solo.
As was the case before, Kjellvander's most captivating instrument remains his vocals. After repeated listens it becomes apparent that, while emotive and confessional, the song's subject remains cloaked, obscured perhaps as a node of connection. On Love Xomes which features a utterly spellbinding guitar lead, Kjellvander drawls off, sounding like the one truck stop lothario whose tale is worthy of your time. The down-tempo closer
Faux Guernica
he plays a lovelorn man convinced of his own capability. He badly wants to convince whom he's singing to of the same thing. It's utterly convincing stuff that applies to the whole record though, a solemn and convincing bleed of emotion.
8/10