Chelsea Wolfe - Pain is Beauty (Sargent House)
Los Angeles songstress causes a stir with her strongest work to date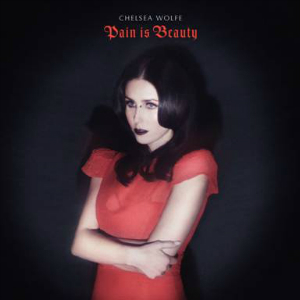 With her newest opus,
Chelsea Wolfe
continues to make music that draws from all aspects of dark, almost pitch black, music. 2010's
Apokalypsis
seethed with the grainy, threatening menace of black metal's corpse-painted face lurking in the background, giving the album a creepiness in amongst the beauty of Wolfe's songs.
Pain is Beauty
is a mix of the ghostly, unnerving Apokalypsis and its follow up, the largely acoustic
Unknown Rooms
, a record that explored Wolfe's unplugged work with fragility and eeriness. Musical checkpoints are scattered throughout: the vampiric sultriness of
Diamanda Galas
, the relentless menace of
Michael Gira
's noise gods
Swans
and the torch song noir of
PJ Harvey
and closest peer
Zola Jesus
. The echo of shoegaze and cooing chorus in the fantastically titled 'Destruction Makes the World Burn Brighter' is as close to a pop song as Wolfe likes to get while the primal drum beat of opener 'Feral Love' evokes the gloomiest moments of
The Cure
.
Wolfe's voice is compelling throughout the twelve tracks that make up Pain is Beauty. A longing, gorgeous moan on 'We Hit a Wall' and a seductive plea on 'Sick' where, drenched in reverb, Wolfe sings as if she is trapped in the well of an abandoned castle, her voice a comfort as any hope of rescue is drowned out by stabs of creaky synths that swarm her words like a just-discovered wasps' nest.
The funeral dirge of 'They'll Clap When You're Gone' is breathtaking. A slow building merge of acoustic guitar, the harrowing vocals, the stark echo of the collision of instruments and sounds, it provides the album with its biggest display of what Chelsea Wolfe as an artist is capable of and why she should be regarded as one of the brightest musical talents of the last few years.
Delicate, haunting, bewitching and astounding, sometimes in the same song, Pain is Beauty is the sound of Chelsea Wolfe's most cohesive accomplishment yet.