Calexico - Algiers (City Slang)
Calexico is border town located at the edge of California and Mexico (see what they did there? It's sister town is called Mexicali – I shit you not). One imagines that after a hard day building the world's biggest border fence (or whatever else there is to do down there) locals retire to a shady roadside bar to sip bottled beers to a soundtrack of Violent Femmes and check out the denim-clad cowgirls.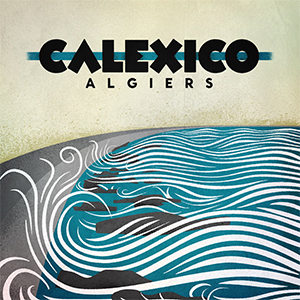 Calexico is also a frontier country-rock band from Tucson, Arizona who cut their teeth in
Howe Gelb's
seminal post-county group
Giant Sand
and since then have released a string of acclaimed records and worked with
Iron and Wine
,
Tortoise
and
Arcade Fire
.
Algiers
is named after the quarter of New Orleans where the album was recorded and the muggy heat of the big easy has stuck to the music which oozes a rich country/latino blend cut through by vocals which sound as if they learned their trade in 90's east coast indie bands.
The opening third of the record is an unusual hand; '
Fortune Teller
' is a lovely country-folk song that incorporates a
Ryan Adams
-esque lilt, '
Para
' is stark and self-conscious – a surprising choice for a free download promotion and '
Algiers
' is an evocative South western instrumental which reflects the bands recent work as film soundtrack composers.
Instrumentally the group augments the standard rock line-up with fuzzy brass, pedal steel, accordion and percussion. Always using these elements subtly, the effect is not as grandiose as
Sufjan Stevens
or as catchy as
Bright Eyes
, instead it creates a shifting texture that moves from New York to Tucson to New Orleans to Los Angeles to Mexico City to Havana and beyond.
Algiers
is vaunted as
Calexico's
most mainstream outing yet and it does come at a cost. At times the lyrics come across as a little too earnest as the vocals are exposed by smooth production and the gentle accompaniments could be construed as 'easy listening' if you were feeling rude. I mean, I like
Crowded House
, really I do, but '96 was a while back and we've all moved on since.
However, by moving towards a more accessible sound,
Calexico
have created a record that replaces the esoteric with openness and the vague with raw honesty. '
Hush
' is a perfect example of why this is important and is worth the cover price alone.
A beautiful album that is far deeper and more complex than it likes to let on.