Buffalo Tom: Quiet & Peace (Scrawny/Schoolkids Records)
Evergreen US indie rock trio make strong return with reflective eighth LP, their first in seven years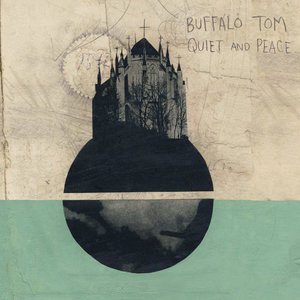 To those who might have relegated Boston alt-rockers
Buffalo Tom
to the proverbial 90's pop culture time capsule, well stop right there. Buffalo Tom might have something to say about that. Sure,
Big Red Letter Day
is twenty-five years gone now which yielded Soda Jerk, landing them a spot on cult TV show
My So-Called Life
the quintessence of knobbly-kneed, Clinton-era teen angst. Two years later the band's most recognizable, anthologized song Summer appeared, but none of that nostalgia stand as the extent of the band's career.
Little feels more unfortunate to me than when era trumps sound on a rock record. Fact check. In 2018, Buffalo Tom continues to churn out similarly satisfying, sometimes intense, always richly orchestrated music as they did when they were first coming out of Amherst with J. Mascis (of Dinosaur Jr.) in their creative corner. The principle players remain. Colbourn and Maginnis on rhythm section, backing Bill Janovitz who plays a bright, expressive lead guitar that by now is rock canon. Turn on
Quiet & Peace
and its as though no time has passed at all.
Opening with the upbeat, steady alt-rock track, All Be Gone Janovitz shows off his robust vocal style, mourning being apart from his family. On the power pop anthem, Roman Cars the song really propels on its guitar solo. But the album is a little dusky. Dare we call it a late career record, full of emotionally relevant material?
Quiet & Peace
takes on more than its share of darker turns, like on slyly confrontational, Cat V Mouse and slow developing, plaintive tracks See High Hemlocks Grow and Overtime and finally, Slow Down which shows Buffalo Tom's depth and reach increasing with age. I would have said that their country rock infused cover of The Only Living Boy In New York feels a bit misguided, but it plays pretty decent, even in how it eschews the dreamy outro that made the Simon & Garfunkel song ground-breaking.
Back in the day, MTV featured what they called the
Buzz Bin
. Buffalo Tom was in there. Unfortunately, the vast majority of our collective perception of that era is misguided.
Buzz Bin
to dustbin? No way. Buffalo Tom has something to say about that. It's
Quiet & Peace
.
8/10
Buffalo Tom US Tour Dates:

Thursday, March 1 - Neumos, Seattle, WA
Saturday, March 3 - Teragram Ballroom, Los Angeles, CA
Sunday, March 4 - The Independent, San Francisco, CA
Saturday, March 17 - Music Hall Of Williamsburg, Brooklyn, NY
Friday, April 20 - Paradise Rock Club, Boston, MA

Tickets are available here