BORIS: Noise (Sargent House)
Japanese experimental metal trio continue to burn bright on 20th studio LP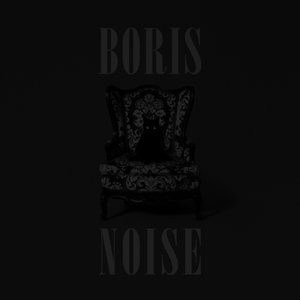 Since 1996 the Japanese cult/noise/ experimental band
BORIS
has released twenty studio albums. Get your foggy notion around that quasi-important factoid, pilgrim. In those near two decades, they've collaborated with everyone, from the enigmatic Keiji Haino to Michio Kuriharo of Ghost to sludge-Godhead/pioneer Merzbow and Sunn O))). Any way you look at it, that's a lot of slashes and deep influences and what it all translates to is this: Boris falls everywhere on the spectrum and their newest record
Noise
is no exception to that rule.
In the pre-release hype for
Noise
, Boris stated their belief that this album touches on everything they've tried; and after a few listens, I agree, wholly. There are ferocious moments as on the opener "Melody and the curiously titled "Vanilla" (which is, of course, anything but). They dabble in speed metal peppered with screeching terrors on "Quicksilver" which dies out with a rumbling, doom laden Earth-esque guitar drone. It's a bona-fide masterwork of ferocity, demonstrating how these purveyors of grimy rock satisfy with careful depth and layering.
I don't like to pin the tail on so-called favorite tracks, but "Ghost Of Romance" is mine because it haunts like a damn power ballad-cum-air raid siren. I mean holy hell picture the emotionally twisted moment: you're tangled on your lover's uptown couch, suddenly interrupted by incoming German bombers. BORIS makes this feel delightful, a moment you'd cherish. The tension sustained would carve even a callow listener down to their bowels.
Alas, if I am going to spill ink though and really entice you to immerse in one track from
Noise
, it would be "Angel" an 18-minute refugee from Black Sabbath's
Paranoid
(think "Planet Caravan" on some really strong mood altering meds). This song encapsulates the band: slow building, melodic opening, screeching ascendant guitars that assemble out of nowhere into an impossible crescendo only to dissolve. I mean, this track falls apart in agony like a damn storm cloud, first breaking, then dissipating until blue washes out every imperfection. It's as gorgeous and satisfying as anything in their catalog – which says a whole lot.
Contrary to popular belief, I didn't name my dog Boris after this band. They took their name from a Melvins' song. I'm just wasting your time with trivialities though, right? Call them doom rock, celebrate their contributions to stoner circles, spin their fresh take on post-post-punk shoegaze – whatever you do, don't leave out that they're a damn phenomenon and
Noise
will not disappoint.