Boom Bip - Zig Zaj (Lex)
Bryan Hollon is back with his newest Boom Bip instalment, more instrumentation and a host of collaborative efforts. Let the Zaj out of the bag people...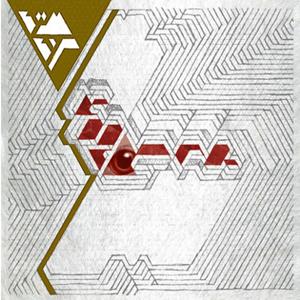 Rejuvenating and galvanising the name
Boom Bip
with
Zig Zaj
, his newest release under this guise since 2007, Hollon traverses the boundaries between the ethereal audio-world and us. He acts as a conduit through which all manner of forms are carefully sculpted and fed into our ears, ever expansive and unexpected. Atmospheric architectures lift off into space, navigate planes on the ground, and delve underwater, unmasking varying pressures which register somewhere behind your ribcage.
It is an exciting record, in essence, with 'All Hands' acting the Circus barker inviting you to roll up, tune in and drop out. Out of realism and normality, check your expectations at the door. Its dreamlike resonance is elastic, stretching and rebounding like warped time, revelling in plucked strings, coagulating into hushed harmonies and walls of sweeping bass notes. This gossamer essence is retained in 'Do As I Do', as Cate Le Bon's dreamlike vocals recount dark events "scaling walls with drops of seven foot or more", with the repeated "nothing happens" a tempered refrain, all the while the baseline and minimalist guitar riff mirroring a 'Groundhog Day' style almost-tryst.
Touching the ground in moments such as 'Manabohz', featuring Money Mark, the track keeps time like a metronome, sturdy in delivery, but with muffled arching spoken audio echoes that mess with its reliability, the cavernous booming voice mired in subterfuge. Upping the ante with 'Reveal', Hollon introduces a number shrouded in a Doppler-effect baseline and synthesised shimmers that set twinkling lights popping in the eyes. This melts into a tone that is both thunderous and gentle, like the calm before the storm, heard beneath the surface of the water.
'Pele' sets up a totally different animal, as industrial tech-tonics effervesce under collaborative neo-eighties shimmering riffs and a brittle beat dropping in and out of the conscious mind. 'Similarly Goodbye Lovers And Friends', fronted by Alex Kapranos' silky voice, beset by the synth-styled speeding riffs and falsetto drum loops, infuses an undeniably indie led pop number with Bip's futuristic stamp.
Perhaps the jewel in the crown of this record however, amplified by the added pomp of masters Luke Steele, on vocals, and Josh Klinghoffer, lending incendiary guitar, is 'New Order'. In the finest example of recklessness, Bip himself sets this track as a particular favourite due to its berserk creation, cutting loose with Steele, not touching the ground. Spinning off into the ether, whirling gracefully and yet at such a speed the boundaries become blurred, a dark voice fills gaps in the pace with life-lessons. The tracks entirety reads like a miniature cult formulating from space, making the title seem rather fitting.
Forming a peak in the pace, next up 'Automaton' puts in mind the 1927 pseudo Sci-Fi film 'Metropolis', itching as it is with restrained energy, opening up a sound-scape that massages your eardrums, sending a wave of futuristic calm rippling through your body, incorporating an added energiser that that ekes in to the fade out. 'Tumtum' hails a return to tribal elements, resounding base notes repeating ad inifinitum, peaking and flowing in an instrumental wasteland. Varying meanings of the word Tumtum; a wooden drum, an androgynous being (in Jewish lore), a Chinook word meaning heart, a cart used in India carrying people or goods, feed into the rhythmic pattern of Hollon's creation, inching forward, faster by degrees, in a cyclical performance that does not cease. The beauty is in the safety of repetition unique within this record, svelte and slick, yet again masking an underlying energy. Finisher 'Mascot and the Moth' crunches underfoot, a layered audio rolling into atmospheric space, awash with rustling thrums and bristling clicks. The set up is slow and steady, with a final velvet overture that layers like icing.
Regenerating like Doctor Who, Boom Bip's production and creativity is as ceaseless as the tides, perhaps attributed to Hollon's audiophile nature and love of music that is blind to genre boundaries, marking his collaborations with a doff of the hat to the style of these artists, whilst experimenting with the outcome in a fresh and exciting way. Every track fills you with the excitement felt when you first started to attach meaning to music, investing in it wholeheartedly, though at times it seems
Zig Zaj
itself is a sentient being, investing in you.