Black Yaya: Black Yaya (City Slang)
Latest project by Herman Dune man starts off promisingly but fizzles out somewhat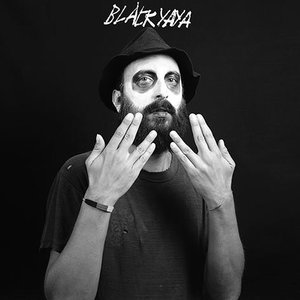 After over a decade as singer/guitarist for French indie types Herman Dune, David Ivar has gone solo as
Black Yaya
. He says the move has freed him up creatively, with his new project's lo-fi DIY tunes apparently referencing the likes of Robert Mitchum's classic film noir
Night of the Hunter
, the poems of Jack Kerouac and Alan Moore's vigilante superhero classic
Watchmen
.
When, last year, he dropped the groovy sunshine pop of 'Paint Smile On Me' as part of Yuksek's remix project Partyfine, such an eclectic stew of influences seemed to have paid off in spades. It was a summery slice of joy, infectious disco bassline and all. Was this a harbinger of the album to follow?
Up to a point. Black Yaya's self-titled debut album starts off in goofy, joyously eclectic fashion with three corking tunes. But just when it looks like this is shaping into something rather special, it takes a turn into downbeat, 80s-tinged Americana - and by the time it comes to a close, 34 minutes later, it's turned into something of an anticlimax.
The good stuff first. Glam-tinged opener 'Flying A Rocket' is a blast, as sci-fi intro, organ vamps, backing vocals, great big bloody chorus and screaming guitar solo mash together to great effect. The playful lyrics ("
waiting like a tomato in the market
", indeed) suggest this is the work of a pretty contented bloke having fun.
The soulfully downbeat 'Glad Tidings' takes a left turn into late-nite 80s LA moodiness. The first of several tunes inspired by film noir, this hooky, Francophone take on neon-lit Michael Mann / 'Drive' territory is a resounding success.
Next up, the archly catchy 'Watchman' is a harmony-heavy '70s AM radio-inspired meditation on vigilante justice, with killer backing vocals and the first of the album's several harmonica solos. It showcases Ivar's impressive ability to synthesise a whole range of influences into superior pop music.
This opening trio would have made a great EP / single - but for reasons best known to Ivar, most of the rest of the album is in a rootsy, downbeat uber-American mode. Neil Young has been known to do this sort of thing, with albums like
American Stars and Bars
sounding more like mash-ups of very different recording sessions, than coherent pieces of work. But Neil is a genius, and can get away with it. When he's good, Ivar is a talented dude. But as the tracks become less and less interesting, and the goofy sense of humour disappears, we are left with a puzzling piece of work.
The rootsier tracks start off sounding nice enough. 'Lo and Behold' is an affecting 'where has the time gone?' meditation with nods to Springsteen, Wilco and Tom Petty. 'Through The Deep Night' is another mellow contemplative number backed with Spanish guitar, which you can imagine topped with a croaky late-period Dylan vocal.
'Vigilante' may be the album's only real lowpoint, sounding hackneyed and uninspired. But as much as the songwriting, it may be the track ordering that lets it down. Too many low-key tracks start to generate a feeling of torpor, even if individually, songs like 'Under Your Skin' are perfectly pleasant.
The production doesn't help, either. Some of the slower songs have a clunky, slightly airless feel that makes one think the project needed a proper producer. There are good ideas here but Ivar would have been better off expanding on the record's poppier elements; writing more songs in that vein; and working harder polishing his sound. As it is,
Black Yaya
sounds like a really strong EP padded out into a lacklustre album.