Benjamin Gibbard - Former Lives (City Slang)
Famed for his collaborations with fellow proliferators of synth fuelled tunes, plumbing the depths of human emotion, Ben Gibbard's solo path has allowed him to lift the constraints of co-authoring and call the shots as a singular entity. Ok, perhaps constraint is not the best word to use here. It is perhaps more apt to call it a weekend alone while his creative spouses are away, with Former Lives as the result. Whilst rarely diverging notably from the Gibbard we know and love, the resultant collection of tracks is sweeter, offering snapshots of character, without the depth of lyrical philosophy you would expect to find in a Deathcab For Cutie jaunt.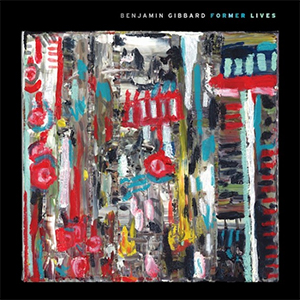 Opening with perhaps the most divergent number, '
Shepherd's Bush Lullaby
', a glut of acapella layered vocals from the man himself forming the framework for the short number whilst he sings "
under my umbrella I sing acapella
". Say it like it is Gibbard. Offering up a lament to a missed love one, the number is fresh in its minimalism, and mirrors precipitation, noting "
In London it's raining, but I'm not complaining
". Dabbling in a break from expectation, '
Broken Yolk in Western Sky
' takes a route into Alt. Country slide guitar and twanged strings. The double edged humour of the classic 'leaving your lover' tale is rife in lyrics "
I kicked open the sliding door, and threw myself out in the road. Torn flesh and broken bones on the shoulders patchy grass, I faded into your past
". Echoes of Dolly Parton stylistics perhaps, but with the male counterpart catered for.
'
Something's Rattling (Cowpoke)
' has a similar tinge of pathos but with a Mariarchi style, entwining choral trumpets and a jaunty riff on the guitar, backed with an effervescent bassline. Its enigmatic smile is captured by lyrics "
Something's rattling, somewhere inside, and it sounds like it's broken, in a place I can't find. And it only gets louder with time
" whilst the sun is perpetually shining in the south.
Single release from the record '
Teardrop Windows
' is more in line with what you would expect from Gibbard, with all the broken romanticism and personification of Smith Tower in Seattle, once named the tallest building west of the Mississippi, before the Space Needle took its title and became the iconographic image of the Seattle skyline. The track, named for Smith Tower's teardrop shaped windows decorating its summit, features the familiar choral refrains and off tempo quirk we know and love. The real joy of this album is these small stories given resonance by their arrangements. Rarely referring to heartbreak in the first person, '
Lady Adelaide
' offers a removed tale of a woman trampled by love. By far the most down beat on the record, its hook is in its balladeering quality, like a novella beset by sustained somber strings and a dreamlike lilt on the xylophone. Gibbard's duet with Aimee Mann '
Bigger Than Love
', is inspired by Scott and Zelda Fitzgerald's letters. Starting with rousing keys, before dropping into a heavy drumbeat, it's flitting pace highlights their turbulent tale, while Mann and Gibbards similarly matched tone and style of voice creates the bond.
'
Lily
', with its ultra sugary sentiment in lyrics "
Lily is a big brass band, who fills the air with song
" is formulaic but hits pressure points, and is catchy to boot. Its acoustic minimalism displays Gibbard's knack for plucking the heart strings. However, none does this so well as '
Duncan, Where Have You Gone?
', and with melody alone. Recalling the 70's penchant for sweeping piano and grandiose arrangement, it bears the unmistakable mark of Deathcab, soothed by the soul of John Lennon's 'Imagine' era. The undulating rhythm and latter guitar solo makes for a real headphones moment, a track to get lost in.
'
Oh Woe
' proffers a rare first person narrative, addressing woe like an irritating friend, "
It's been a basement of a year, and all I want's for you to disappear
". In moments like these, Gibbard's ace-in-the-hole is his ability to use upbeat chords and a well-paced tempo to create energy in frustration. '
A Hard One To Know
' revels in this recipe, awash with discordant feedback amongst plucky rhythms and bubbly bass, ending lyrics "
tell me to stay and then you tell me to go, you're a hard one to know
" underlining the meaning nicely.
'
I'm Building A Fire
' sends the record full circle, with the minimalism of Gibbard's voice, armed with only an acoustic guitar. Negating the pomp and synthesized bravado that usually shields his projects, and it feels like what he wanted to create. The vulnerability of his voice ties in with the fleeting nature of the world, a theme he has never shied away from. Whilst the record is not a departure from
Ben Gibbard's
usual repertoire, there are certainly new elements that have doubtless been allowed to grow due to solo exploration. It would be useful to regard this record as a smorgasbord of his musical talents. Digest and enjoy, and hope he comes back with more.