Jack the Radio: Badlands (Self Released)
North Carolina band bring the big noise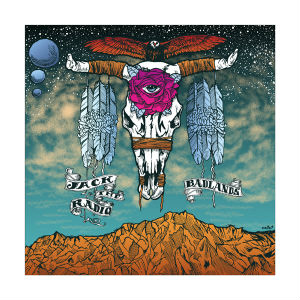 Scour the internet wide for articles and praise about
Jack the Radio
, and you'll see them described as one of the best North Carolina bands currently playing. To my ear, across the continent, there is a strong blues and roots association with what would make a Raleigh band great, which is why I was surprised at what
Badlands
their newest album revealed. The twelve tracks present a much larger and less intimate sound, bringing back home rock more to the stadium than out of the barn. There are no gallows poles, no whipping posts.
The boys from Jack the Radio aren't lacking for swagger though, songs like the opener 'Bad Man' and 'The Runaway' filled with an unabashed grandeur, electric guitar swept country tones that are so robust they're practically bursting out at the seams. As I listen to
Badlands
I keep coming back to the feeling that Jack The Radio has a keen ear for a very specific rock, guitar worship, the ultimate virtue in the big song leave behind. This album does not disappoint on that yen, bringing a few moody jewels like 'Moonlight' and 'My Way' along for a ride on the monster truck. Perhaps my only quibble with Jack The Radio is how the vocals, come hither vixen vocals as grace the likes of 'The Takedown' and 'Leaves' miss the boat on a core element of song/storytelling. The fact that this just is not here, is for me, a notable absence. Otherwise, rock on.