Anna of the North: Lovers (Different Recordings)
Heart on sleeve lyricism and chilly electro pop underpin satisfying debut LP from fêted vocalist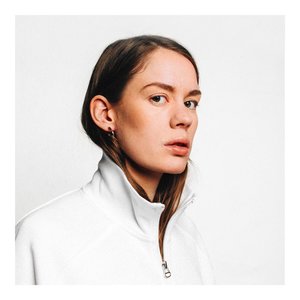 Anna Lotterud, you should know her by her stage name
Anna of the North
. Not the monument overlooking Newcastle and Gateshead, but the Oslo-born singer adopting synth and soul-bearing as her own being.
Comprising of Lotterud and New Zealand-born producer Brady Daniell-Smith, the outfit's debut LP
Lovers
is the first full-length album to feature the vocalist, despite releasing some absolute bangers with the help of favourites The Chainsmokers and Vessels this year. But her first release is a far cry from what we're used to.
Opening the album is Moving On, and the 80s synth rinses you on first listen. It's perfect for 8am commutes. '
Sometimes it's hard to take/You're going to make it through the day
.' It's like she knows you're going to be battling the suits imminently.
The album doesn't pick up much from there, the tempo ups on Someone but it soon settles that this is clearly a break-up album. But not in the way we know it. Track Always confirms that it's going to be one to mope to with wine and your dad's NowTV membership.
The Anna we love comes back to surprise us with Baby. Those high pitched tones and warbles take us back to summer dance favourite, Us. This leads us to ask why this song isn't on the album - as well bangers Sway and Oslo.
As if going through heartbreak ourselves, Anna goes back to the self-loathing on Friends. '
Sometimes I feel so drunk and lonely/ Don't think I'm strong enough for this/ Tell me where life has gone
.' It's a rollercoaster of love lost.
It all changes on Fire, Anna turns Charli XCX with strange accented word: '
fiii-erh
'. The style is this summer's bongo drums and limp tropical mix. For the rocker, it's easy to remain a tight-lipped synth snob. But soon your head is swaying and you can't help but finger snap in time.
Lovers
will leave you with a gnarly feeling in the pit of your belly. Anyone who's ever been broken before will sympathise. Tracks like Lovers and Always are ones to skip, but the whole thing definitely matures on second listen. Watch out for the hidden jingly keyboards in the back tracks that the Scandis love so well.
Anna's debut leaves you thinking if this is a break-up album she's happy about, and proud of - while owning herself as a single woman. Or one which cries out for her to be held, and that, actually, she's dealing pretty badly.
Anna's soul is well and truly on show for all to rip, tear apart and weep over. We feel you, Anna.