Animal Collective: Time Skiffs (Domino)
Baltimore experimental pop collective blast back with focused, dynamic set, their first in six years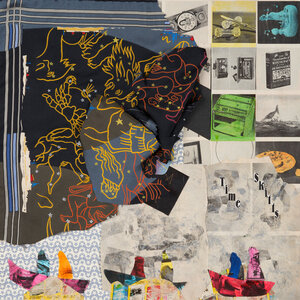 There is a stunned and incredulous face to the fact that it has been six years, six whole years since the last fully fledged full-length studio LP from the legendary Baltimore-brewed outfit. Indeed, this gaping chasm of time has been thickened out with a survival pack of experimental EPs, some soundtrack work, a live album of
Merriweather Post Pavilion
era focus and an environmentally conscious audiovisual concept. However, the natural prolific output of these hard grafting folks that we have been so used to has left one almost dumbfounded of the absence in classic format AnCo albums since 2016. The way they choose to travel in this time skiff is tantamount to the level of translucence and aura of mysticism that is synonymous with this global household name. Skiff is a small boat by the way, that saves a Google.
Painting With
– in which most of the songwriting credential ended up tangled up in an indigestible incomprehensibility of hocked vocal tennis, seemed to close a chapter on their frenzied hectic bouncier style. Not that there isn't a bounce any more, of course there is. It just really feels as if this music can breathe fully, whereas there have been moments too many to mention throughout their back catalogue where a slight vibe of sonic claustrophobia has been detected - 2012's
Centipede Hz
springs to mind for this. This time round the electronics have cooled, or at least become more dynamic, the reverb is more appreciable and the variable instrumentation takes its turn and knows its place. Obviously with age X music, maturity comes into play naturally but it feels like this record has been coming, and we're all better off for it. Deakin has returned to the fold on this outing too, which is a strong presence felt once more.
Opener Dragon Slayer, dedicated to St. George [only joking], sets the tone nicely. Vaguely reminiscent of No More Running from Merriweather…, Avey Tare evokes imagery of red kites and seagulls here in the lyrical play signifying the overcoming of one's enemies. Car Keys, a rare demonstration of how the band can compose in minor key, has so many catchy parts it becomes hard to pin which one is the chorus. So in a supposed chorus, Panda Bear sings the line "
How are we doing now?
" which almost feels like they're checking in with their fans after the last few years - which is kind of cool even if not intended that way. It features some rather wonderfully recorded xylophone [or possibly a marimba], which is also present in the median of the album
Walker
. Although there is a succinct thread throughout, the first single
Prester John
is the quintessential tune that ties the album together, and it's a good time to drop a fun fact – that this is one of many tracks on the record featuring a hurdy-gurdy [executed efficiently by Geologist].
Strung With Everything is a bit of an opus and scores the "heaviest track" title by a stretch. Despite sounding fresh, it weirdly harks back to 2007
Feels
era, and because of that it needs that big free flowing introduction before it whirls with reckless abandon towards the end. Towards the latter end of the nine tracks, there are the subtle quirky time signatures and playful vocal dances of We Go Back and the vocals shine in the harmonies of Royal And Desire. Such a simple laid-back piece, but it still gives off the scent of that uniqueness to be celebrated within the group after eleven albums strong. Bonus points to anyone that can identify the taishōgoto instrument in these closing numbers too.
Even though this was recorded while the members were apart from each other during the pandemic, there is massive sense of unity and a positive symbol of how the pack have grown together and understand each other. Simply calling this a "return to form" would be a total back-handed compliment, seeming disparaging of the greater parts from records and eras in between - but it's arguable that this is their finest work since
Merriweather Post Pavilion
from 2009.
Time Skiffs
is a welcomed episode in the band's narrative; an all around calmer effort while never lacking in character or structure. Also from the production perspective, there's a strong feeling that it'll age like a fine wine too.
4/5