Andrew Combs: All These Dreams (Loose Music)
Nashville stalwart releases stunning second LP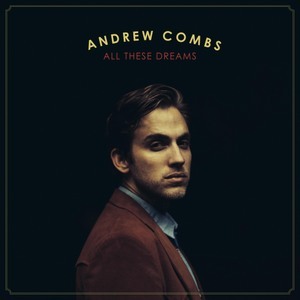 Texas songwriting is a damn respectable lineage and with output including Townes Van Zandt, Roy Orbison and Steve Earle … it is hard not to feel your ears prickle when you read the state-of-origin tag in
Andrew Combs
' biography. Consider that the Dallas son now works as a staff songwriter in Nashville and that his last record, 2012s
Worried Man
, earned high praise from both American Songwriter and No Depression magazines and Americana fans are understandably a little excited about this one.
It's hard to define exactly what it is about the American South that is so evocative when it comes to music but the association of the Texan landscape and the sounds of it's music is perhaps the strongest of all American music. However, the arid deserts and rolling plains of popular imagination are a long way from the asphalt-ringed metropolis of Dallas. When Guy Clark and the other Texas troubadours of the 1970s created 'outlaw country' in Austin at the heart of the state's Hill Country you could sense the scrub land and ranches colliding with the cosmopolitan downtown of the original 'weird' city. Two hundred miles away and forty years later in 'Big D', Combs forged a strikingly distinct brew.
Hushed, calm and beautifully arranged, his is a metropolitan country with hints of soul, jazz, and sixties pop. But it is none of those things. Not fully. From the get go the record is smart and engaging, with every chord, hit and syllable confidently positioned in place with the intent/sense of overall effect akin to an installation artist. Two examples immediately come to mind; 'Long Gone Lately' features short bursts of castanets twice in each chorus and never elsewhere. It is simple and perfect. 'Strange Bird' features the only traditional honky-tonk country lick from the steel guitar on an album that is doused liberally in that finest of all instruments. That takes quite some restraint.
This would seem like a good time to mention the splendid job that London's own Spencer Cullum Jr. has done on pedal steel guitar throughout this record. Lifting the record at all the right times and bouncing off longtime collaborator Jeremy Fetzer on electric guitar. Combs has done a fine job sourcing his musicians and producers. This should be no surprise. Due to his day job in Nashville he knows who's hot in the studio and outside of it (he's not shy to avail himself of co-writers on all but two cuts).
The cover of the record is a portrait of Combs, a self-assured knowing in his eyes and an air of arrogance that would draw the envy and scorn of many a man. He knows this is a great record because he knows how to write great records. It's his job.
If I have to pick at anything, and for the sake of balance I should, it is
almost
too slick, there is something a little sinister in how easy it seems to be. None of the record sounds forced or over-reached and it's extremely polished. With bittersweet songs such as these you might miss the fine line between beauty and chaos that is ridden by the likes of Nick Cave and Tom Waits to such great effect. It is of course a testament to Combs that he deserves comparison to such old hands.
Overall the record harnesses the production spirit of Matthew E. White's
Big Love
, the ambition of American Music Club, subtle intelligence of Lambchop and at it's best I think it achieves what Ryan Adams was aiming for in the
Cold Roses
era. A fully exciting talent and a
great
album.
Catch him live across the UK this week:

03 Feb - Leeds, Brudenell Social Club
04 Feb - Nottingham, Rough Trade (in store) - 5.30pm
04 Feb - Nottingham, Glee Club
05 Feb - Bristol, The Tunnels
06 Feb - London, Union Chapel
07 Feb - London, Rough Trade West (in store) - 6pm