Amos and Fidjit - Legend Of The Ram (Northern Structure)
Trying to uphold a name for UK hip hop comes Amos and Fidjit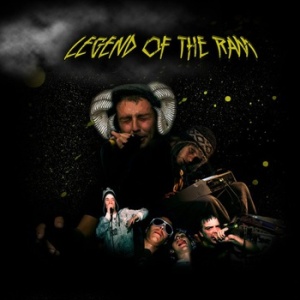 UK Hip hop is a bit of an enigma. Whilst countless rappers make the trip across the atlantic and chart with ease and frequency, homegrown artists are almost entirely ignored by national radio and the mainstream media and music consumers in general. Some stars have transcended out of the scene, proving that there is talent and charisma out there - but its always after taking their rhymes to a neighbouring genre that British rapper gets any commercial acclaim.
The Legend Of The Ram
from duo Amos & Fidjit is a noticeable attempt to stay with the under current. Perhaps as a consequence, Amos and Fidjit don't push any musical boundaries. The production does retain a gritty feel - the hallmark of the genre, but never reaches the production watermark set by Lewis Parker in the late 90's.
The lyrical work is solid but unspectacular. It is gritty and angry for the main, like Chester P but without quite the same level of subverted humour. When Amos and his various collaborates (including label mates J Toker, Evileyz and Puritan) come with a more contemplative flow, there is a lack of subtlety preventing any of real narrative from developing it is just a bit one dimensional and at 18 tracks the record feels very bloated.
Not that there aren't some high points. For one It's always great to hear someone singing or rapping proudly in their natural accent and wIth the harsh regional tones it immediately brings to mind stalwarts of the UK scene Braintax and Jehst. 'Lost Down Lanes' features a great off centre beat whilst 'Step To Temple' - a nod to Cypress Hill heavy weight DJ Mugs - chimes in with the strongest chorus line on the record.
Maybe it's true to say that UK Hip hop has never had a defining album to push the genre to a new level. This almost certainly isn't it but as long as there are people trying to make legitimate hip hop in this country, it remains a possibility.