AM Clouds: Rainmaker (Self Released)
Oregon quartet return with sterling new LP with nods to classic rock and nineties indie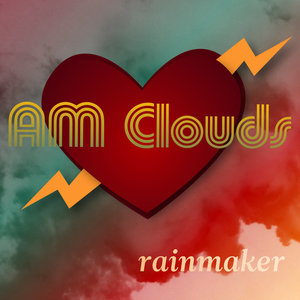 In the market for an injection of super-funky nineties era soft-rock and jocular funk? How convenient… look no further! Hailing from Bend in Oregon, we are willing to bet these guys have seen more than their fair share of picturesque sunrises and wide-open spaces. When you have all that space, what is there to do but fill it with some of the most freewheeling tracks you can?!
Taking their name from a phrase coined via weather forecasts on local radio networks, it certainly conjures up some fine mental images of the bruised blue skies and vanilla clouds of a calm morning. Ladies and gentlemen, they are here to spoil that call. Perhaps spoil is a little unfair, for none of these tracks are unwelcome. Yet to pin down this foursome is pretty tricky, creating some hours of mind-bending thought in the process. Tricky, yes, but we can damn well try!
What
AM Clouds
are really good at is taking that Fleetwood Mac Chain style scene change and making it their own. This cannot be seen more ardently than the
title track
, in all its 9 minute 56 second glory!
It would not be out of place in a rom com about a manic pixie dream girl, rich as it is with references like "
She's a rainmaker, she's falling for you, she's a rainmaker, and she covers up the blues
". Its opening gambit is a foray into the sturdy indie rock classics; complete with catchy riffs and perky drum loops. Yet, as we rumble off the smooth asphalt of the first three minutes and into rougher terrain, strings are set loose amidst the bubbling baseline. Deeper and deeper we go, swirling amidst the free-form styling of lead guitar and vocalist Bruce Troy Moon and rhythm guitarist Graham Boostrom.
Moments like these are to be savored for the sheer ride-along that the listener is permitted. Our minds have been hijacked by the players imagination, engulfed in a cacophonous instrumental ecstasy. Words are not needed here.
AM Clouds like to strike a chord between zero gravity meandering and grounding lyrical form. Moons vocals are velvety smooth, creating a smoky blues vibe that coats tunes like Milk and Honey Blues. Its swaggering roll slows the pace somewhat, showing that they are indeed capable of some restraint… but not for long!
Velvet Rope showcases the beauty of their lyric writing prowess, whilst giving an unmistakable nod to nineties bands like Third Eye Blind and Counting Crows. "
Life is sweet, sprinkled with pain
". They aren't wrong, but somehow this track makes it more of a daily intention. If you listen to this song every morning, you will start the day off right.
Traversing a rich variety of genres, it cannot be easily deciphered from where the quad took their influences. Moments of wild abandon speak to Yes, whilst upbeat nineties rock and laid-back crooning vocals call Better Than Ezra and Save Ferris to mind. What is certain is that their labor of love defines no boundaries, and perfectly elevates the listener to the broad horizons and wide-open sunrises of their state. Given all that space in your back yard, I'm sure you would have a proclivity toward messing with the prescribed too!
8/10