Alright The Captain: Contact Fix (Mountains of Records)
Experimental trio return tooled up with powerful second LP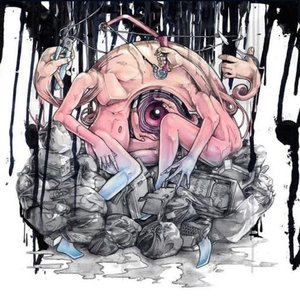 It's been four whole years since
Alright The Captain
starting making a bit of a din with the release of their debut album
Snib
(
review
) one that resonated and ricocheted across the experimental rock scene from deep within the centre of the earth (er, Derby).
An EP has reared its head midway in between, and since he joined in 2012 latest drummer Jamie Cattermole's scrupulously intricate attacks on the kit are finally captured in this wee beasty,
Contact Fix
. The ATC trio's sonic waistband has increased indeed nowadays. The addition of the synths and sample pads has been squeezed into their instrumental pie chart, used in conjunction with the bass by Todd Wood. Also with the help of Rich Collins from recently deceased mathrockers You Slut! behind the desk this time round, their overall sound has been encapsulated and rolled up into what would be the musical equivalent of a 10ft rubber band ball, on fire.
From the first few seconds of play, the essence of the 'Captain comes through indubitably. Crashing drums and squelchy synth emerge before the twinkling fingertaps arrive courtesy of celebrated riffmonger Marty Toner. Fun fingertaps obviously, this is not to be confused with those of the cranially agitating nature… In fact, what makes this opening track even more fun is a) the fact that it's called 'Toaster Mouse' and b) the outro – when the tempo gets derailed and it propels into a haze of uber rock-out hysteria. It would not be out of place at the end of a set, where, if not done so already, the crowd start losing their shit. A gasp of breath is permitted until a sample containing a mild complaint about the temperature comes in (quite apt at the time of writing, really) as an intro to the immediate urgency of 'Balterific'.
'Eagle Hands' traverses through a medley of musical modes and provides for a multi-faceted centerpiece. Single 'Ben And Barbara', complete with a hilarious
video
, helps to demonstrate ATC's lyrical qualities through the medium of carefully selected sampling. It's justifiably an extra characterised element without the need for any vocal lines. Similar play like this occurs in the last track 'French For Gnome' which sort of sounds like Carl Sagan commentating over an imminent armageddon.
While ticking more melodic boxes and while debatably short as well, this album packs more than a few punches.
Contact Fix
is exactly what you're after if you want no more than half an hour of cannon-blasting, belly-rubbing, butt-clenchingly punishing music that hums and smells and lingers around like that of a 5-cylinder diesel engine… on fire.
Alright The Captain Links