All Mankind - Simple Desire (SO)
Big things are predicted for the Australian-by-way-of-Liverpool band.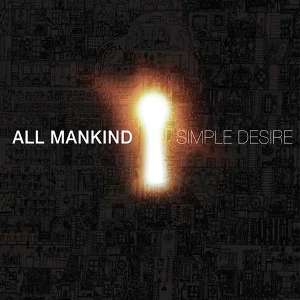 If you like your music anthemic, packed with heartfelt emotions and bursting with memorable hooks –
Simple Desire
could very well be for you. Rarely can every track on an album stand proud on its own merit –
Simple Desire
is a very welcome exception. Listening to the epic tracks 'Break the Spell' and 'Can You Hear Me? ' it's difficult to comprehend that
All Mankind
, a 4-piece originally heralding from Sydney, formed so recently (in 2008).
Produced by Mike Crossey (Razorlight, Arctic Monkeys, Foals) and recorded at the Motor Museum Studio in Liverpool, All Mankind's debut full-length album has a unique, highly charged and deeply emotional sound. Certain tracks, such as the title offering 'Simple Desire' and the very catchy 'Lover's Song' could be likened in style to Coldplay, The Temper Track and The Killers, while the brilliant 'Magic Moment' could show elements of Echo & The Bunnymen ('The Killing Moon' era).
The band itself comprises of Rich Beeston (vocals, piano), Dave Beeston (drums/backing vocals), Gavin Perkins (bass) and the uni-named Dorny (guitar) – the band name, as you may have already guessed, is inspired by a line in a Pearl Jam song (who are also cited as a major influence for the band, along with Muse, fellow Australians Empire of the Sun and Kings of Leon, amongst others).
Instantly recognisable - after only one play of
Simple Desire
, you are likely to be hooked. All Mankind show very strong signs of being the next big Aussie export to shake up the UK charts. It's easy to imagine this album sounding breathtakingly good live – while still remaining radio-friendly to the masses. 'To Live', for example, seems pre-destined to be performed at larger arenas.
All in all,
Simple Desire
is very impressive stuff – great arrangements and breathtaking vocals backed up with lyrics that obviously have real meaning to the band. When listening to 'Hollywood Tonight', for instance, you can't fail to hear the emotion in Beeston's vocals – it's hair on the back of your neck stand-up good. If All Mankind are not dominating the UK charts by this time next year, I'll eat your hat – world domination is predicted.