A Genuine Freakshow - Oftentimes (Peartree)
Long awaited release from a much promising band.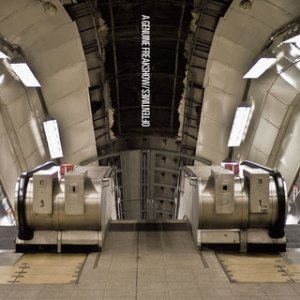 A Genuine Freakshow's debut album 'Oftentimes' is a well anticipated release from the band who's prior single 'Holding Hearts' made Tom Robinson's best of 2008 broadcast on BBC 6 Music. This is certainly a band to get excited about as their music has already whipped up a grass roots following across the UK resulting in headline shows at prestigious venues. While there are a ton of bands attempting to make this type of music and unfortunately ending up sounding like a slew of failed art students with more pretentions than talent, there is no danger of that here! A Genuine Freakshow have struck the perfect balance between delivering carefully crafted emotive songs, epic instrumental arrangements whilst remaining sincere at all times, my hat is off.
'We Are The Undercurrents' kicks things off and the thing that struck me most about this track was the dynamic arrangement, not just your standard quiet verse/loud chorus affair but how the band use their instrumentation to its full effect. The track then segues into 'I Can Feel His Heartbeats', again there are many subtle layers of sound with a couple of nods to current Indie convention. We'll let them off for that though because when it works it works well, I especially liked the playful nature of the outro on this song. 'Hopscotch Machine Madness' benefits well from the male/female vocal split and although the subject matter is the writer's own jealousy, it's quite an uplifting song.
'You Cut Me Out' is the album's longest offering, and is a mix of melancholic atmospherics with a stirring piano driven bridge, very effective and further proves their command of musical light and shade. 'Our Bodies' is an intricately arranged love song, the strings and brass makes this song although not too sure about the 'stock indie' lead guitar as it seems a little unimaginative. 'Holding Hearts' is another one that the extra instrumentation lends itself well to, there is a very effective militaristic feel in the rhythm section (but then it is about "utter frustration" at the UK's foreign policy!) 'Warning Shot', a gently arranged yet lyrically brutal closer. Very fitting for what the band's music as a whole has said to me.
I have a few criticisms of the album in that sometimes it does teeter on the edge of sounding 'samey' and its overall length is a too modest 35 minutes. What makes these things not as much of an issue for me is that A Genuine Freakshow sound like they are playing their music with conviction which always pays dividend. All in all a fine album with some excellently crafted songs, definitely a band worth exploring further.