39 Clocks: Next Dimension Transfer (Box Set) (Tapete Records)
Highly regarded German psych outfit's work collected in five disc set including rarities and unreleased tracks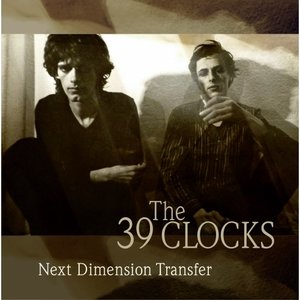 I wouldn't blame you if, in playing any of the tracks on
Next Dimension Transfer
by German underground/psychedelic rock band
39 Clocks
, you thought of Velvet Underground. Maybe not even that you thought of
them
. Much of the Hanover band sounds so close to the legendary band that you might thing it
was
them.
Considered Germany's best band of the 1980's, Tapete Records has offered up the definitive 39 Clocks collection, five discs entitled,
Next Dimension Transfer
capturing much of what the band put out in all its blown-out, distorted and spaced out glory.
It may be important to understand where I'm coming from – prior to reviewing this five box set I had never heard of 39 Clocks before. But I know my Velvet Underground pretty damn well, and for a different reason, I have come to love each of their records. Tops among those,
White Light/White Heat
feels like the direct inspiration for much of what is on
Next Dimension Transfer
where the songs are full of jangly and distorted guitars, sometimes sloppy and crashing percussion and the drawling vocal style. Anyone could put on tracks such as the propulsive, DNS or a sublimely dream-like, Stupid Art and feel right at home in the smoky haze of classic rock meets proto-punk that was New York City in the late 1960's.
Most of all though, the band captures the visceral feeling of a certain era of rock's primitive underground, a whirl of Kraut influenced psychedelia. Their recordings inhabit it like few bands have since those genres fused. Everything on these five records is effusive of the experimental garage, rock's proverbial DIY incubator. There are so many versions of the same tracks (the box set is comprised of two proper albums, two collections of outtakes and rarities, and one live recording) that they begin to bleed and jam together and makes for the kind of bands you can fill a room with.
After exploring
Next Dimension Transfer
extensively, picking it apart for this song gem and that odd version feels like an unnecessary exercise. Before hearing 39 Clocks, I thought I had a grasp on a favorite set of classic/underground VU influences, but I was, alas, terribly wrong. Now I have a grasp on that space and spaced out time with this box set going a long way toward completing that picture.
4/5