3 Daft Monkeys - The Antiquated & The Arcane (3DM)
The 'Monkeys show their chops with a new full-length, maintaining their status as one of the most hard working bands in the country and their importance on the folk festival circuit. An album which commands you to "roll up, roll up" had better be worth the hassle of such task.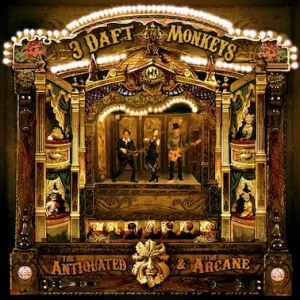 Title-wise, it's a nod towards their local society that shares the same name, bringing certain Cornish individuals together engaging in mysterious tales and shenanigans from the past. This sets the scene for the music and lyrics too. What you have to admire about 3DM which has been done by ample other folk bands, and Rolf Harris too I guess, is their storytelling element and their ability to introduce and contextualize songs as an anecdote. 'Days Of The Dance' - the longest number clocking in at 5:56 is the narrative account of a contagious dance craze, which struck Strasbourg in 1518. There are two main sections, one aptly enough being of a French oompah-pah rhythm, and another being a fast off-beat polka dance – the song holds the potential of meddling between until the audience in question supposedly runs out of energy.
Topped with exceptional fiddlery, 'Civilized Debauchery' proves as another worthy stomper enabling them live up to their name a little bit more than the mellower ditties. The rustic 'Time To Evolve' is a reflective number taking a stab at human nature containing an outburst of flutage somewhat reminiscent of the 70s Cambridge folk movement (not to be confused with the 70s Cambridge prog-rock movement). They achieve travelling smoothly on the line between these two realms of song where ultimately musicianship, and when applicable, showmanship prevails.
'Under One Sun' is well-written and innocent sounding, despite coming across as more of a pop song. It stands out from the rest by having a considerably less traditional feel, and could in turn be a risky choice towards more "hardcore" fans. However it could be just a stint at more widespread acclaim – one can imagine there's only so far you can go with folk based crowds and followings.
The Antiquated And The Arcane
has it all in a compact 12 tracks. The current surge of "party-folk" (going hand in hand with the recent Balkan and klezmer infused music) is indeed spreading and smothering like butter on a hot corncob, and 3DM clearly still comprise everything you'd expect from an acclaimed package of such genre.